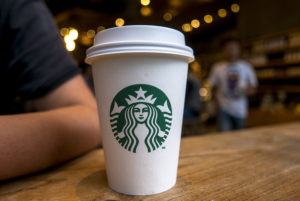 A new Starbucks will open in downtown Sioux Falls this fall within the Hilton Garden Inn-Downtown on 8thStreet.
The full-service Starbucks will replace the space currently occupied by the indoor pool area within the hotel. The store size will be comparable to standalone locations in Sioux Falls.
"We're always looking for new ways to appeal to our hotel visitors, as well as the community," said Paul Hegg, President and CEO of Hegg Companies, Inc., owner and operator of the hotel. "The pool area wasn't getting very much use, so we began to think about better ways to utilize that space. A Starbucks seemed like a great fit for the property and our hotel guests, but also for downtown. It's our hope that it becomes a place to meet and gather."
This Starbucks will be a licensed store owned by the hotel. It will feature the full menu of beverages and food available at Starbucks, includingNitro Cold Brew. Due to the unique location, a drive-thru will not be available.
Customers will be able to enter the Starbucks through the hotel and a separate exterior entrance off 8th Street, where there will also be riverside outdoor seating.
The store will employ around 25 people.
Construction will start in June and is expected to be complete in the fall.